Last time, we discussed the storage and sanitization of our VR equipment. These are just two pieces of the puzzle when implementing and maintaining a successful VR program. This blog will explore what type of training space users require for an optimal VR experience and successful VR training deployment. What does a portable VR set-up look like, how is it implemented, and how can you best support employees' VR training at a distance?
VR Training Deployment: Optimizing Your Space for VR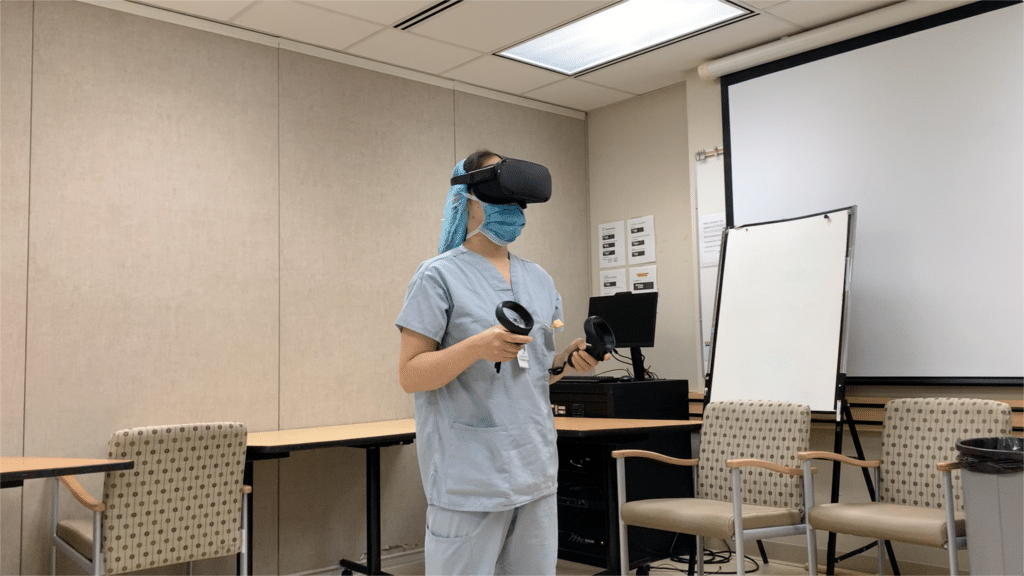 When planning an ideal location for users for your VR training deployment, start with the manufacturer's recommendations. Most VR manufacturers recommend approximately 2-meter by 2-meter space for a VR experience that requires standing and movement. Less space while standing can be difficult or dangerous when users start extending their arms and making quick movements. If your experiences only require the user to be seated, the space requirements are half the size or 1-meter by 1-meter. Seated experiences are more compact and can be selected when performing the initial set-up of your device.
Beyond this recommendation, there are several other things to consider when planning out your VR space, including the device connection and tracking type.
VR Training Deployment: VR Device Connection
There are two types of VR device connections, tethered and untethered. A tethered device requires the headset to have a physical link to a computer. Untethered, also referred to as stand-alone, allows users to experience VR without a physical computer connection.
A tethered connection type involves a cable connecting the computer to the VR headset. Cables can vary, but typically, they come in 10 ft, 12 ft, and 16 ft lengths. Longer cables provide the user with more movement within the experience. Be sure to choose a safe length for the space you have to account for the possibility of the cables being stepped on or getting tangled up during the VR experience.
It's easy to get immersed and forget about the physical connection while in VR. There are a few ways to handle this while still providing freedom of movement for the user. The first and most common is to purchase a cable management system. A quick search for VR Cable Management on your favourite browser will bring up several viable cable management options. Many of these solutions involve attaching the cable to the ceiling or wall in a way that keeps them suspended and maneuverable.If your space is dedicated and the room large enough, these pullies and hook options keep the cable from causing distractions or safety issues.
Another way to manage the cable connection is with a spotter to assist in handling it. Spotters can hold, untangle, or warn users if the cable is close to causing an issue.
With an untethered VR headset, the user is free from a direct corded connection to a computer. VR experiences are loaded directly onto the headset device for users to access whenever and wherever they want. Users can move around freely within the experience with no physical connection, as long as they have enough real-world space.
With this stand-alone option, there are fewer restrictions to where you can use VR. Depending on the experience type, you can find a location that suits it by merely grabbing your headset and moving to an unoccupied area – unlike a tethered connection that would require the device and computer to be relocated. With an untethered VR headset, users can find a space at home or in the office with enough room for them to move around.
VR Training Deployment: Tracking Type
Another item that influences the space you need for a VR experience is tracking technology. In VR headsets, there are two types of tracking methods – outside-in tracking and inside-out tracking.
Outside-in tracking is when your VR set-up relies on external sensors or markers that need to be placed throughout the VR device area to work. This tracking method is highly accurate with low latency and requires a more permanent space for ongoing use, or the users need the time, patience, and aptitude to set-up and tear-down before and after every use.
Inside-out tracking is when the device itself has the sensors to sense the room and where you are within it. This type of tracking allows the hardware to function without the use of external sensors or markers. VR hardware with this type of tracking can be stand-alone or tethered and are more flexible in location and use without the sensor or marker limitations.
VR Training Deployment: Your Hardware Influences Space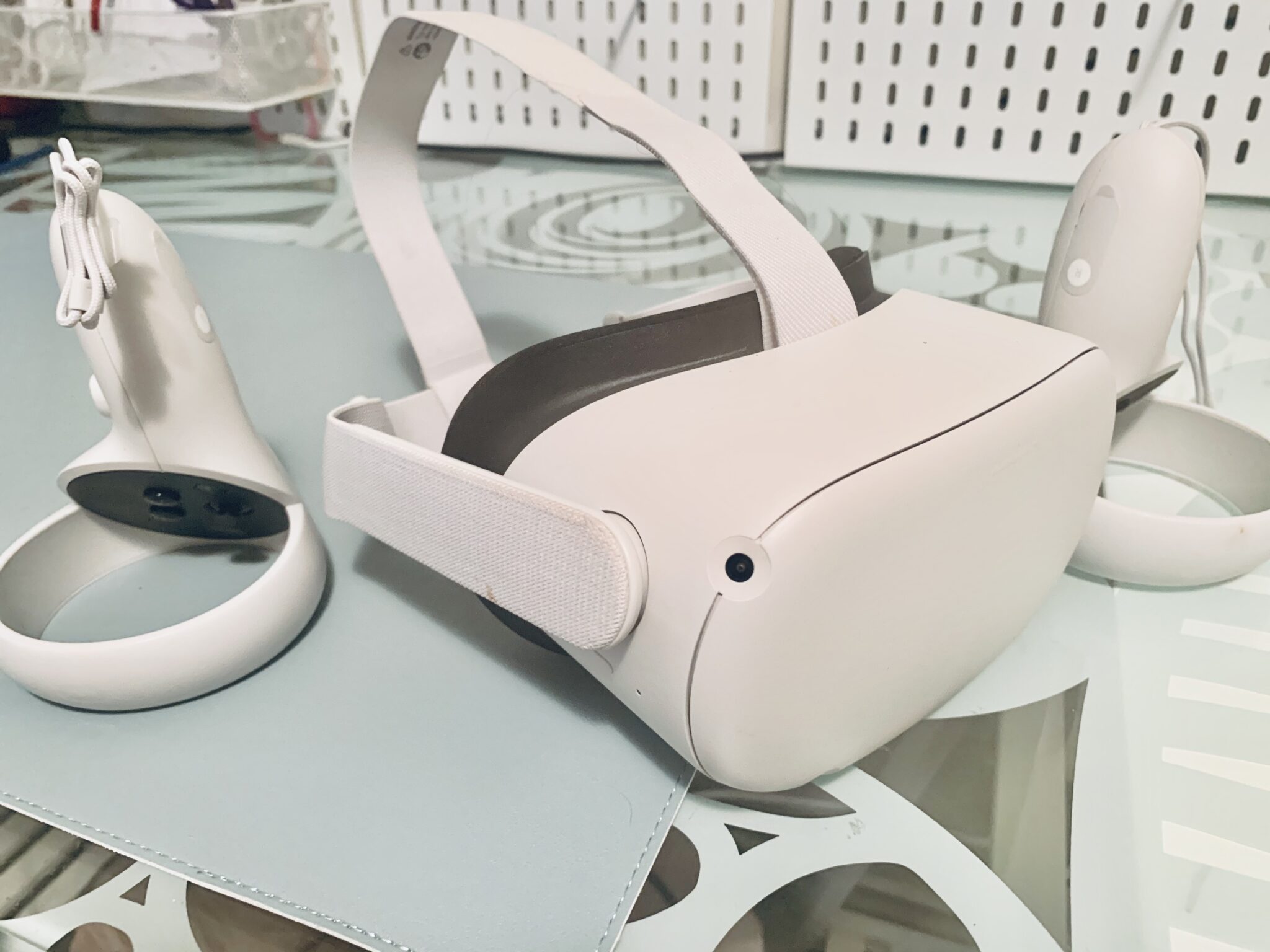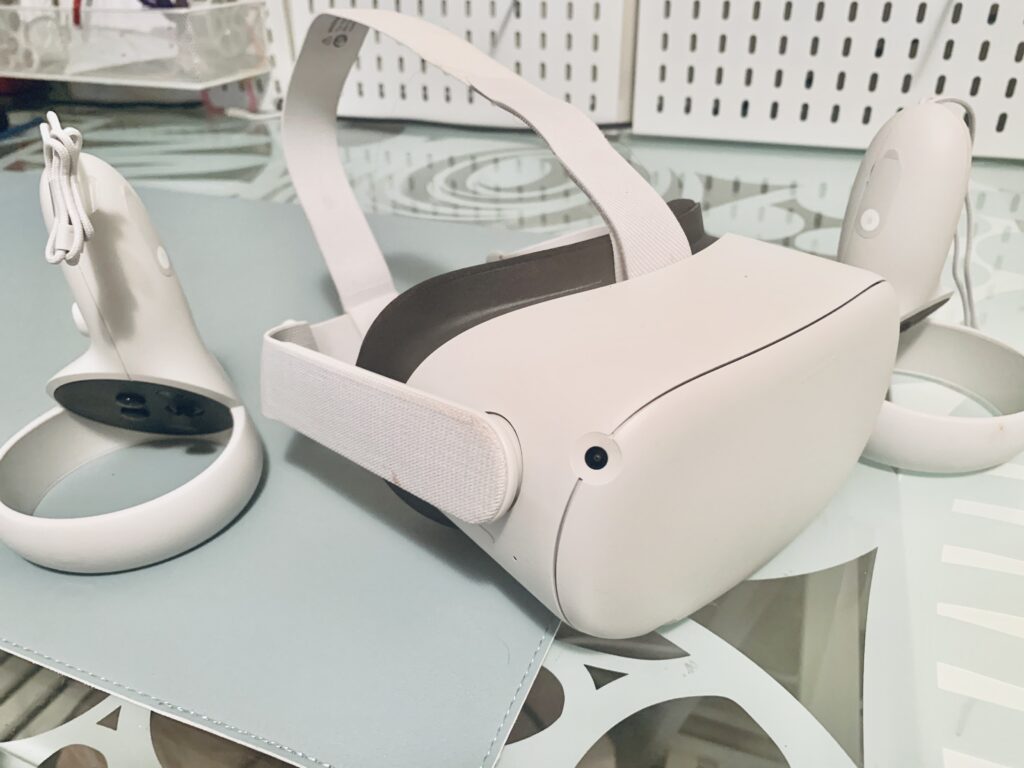 Your hardware choice dictates the type of use and space needed for VR experiences, and considering potential user locations should factor into your hardware decisions.
If you're setting up space at your office or a VR lab location, then a tethered VR headset with a cable management system and sensors might make the most sense short and long-term. Office or VR lab locations tend to be a more permanent solution and accommodate the 2×2 space recommendation for tethered headsets.
If you are aiming to get VR experiences to your work-from-home group, consider untethered stand-alone hardware options. You can ship headsets to users, and they can then find a space that is available and works for them. This setup will not require a computer, cable connection, or sensors to get a quality immersive experience. Users can utilize a 2×2 or a 1×1 space for their experiences with the untethered headset.
For a portable VR solution, consider a tethered or untethered hardware option with inside-out tracking. By eliminating the need for markers or sensors, you can set up the VR hardware and computer anywhere you go, like trade shows, alternate office locations, or from one line of business to the next. Depending on the space you have at your travel location, you can set-up in a 2×2 or a 1×1 area.
Regardless of your location or preference for devices, there is a VR solution out there for you. Pair these suggestions with storage and sanitation best practices, and your virtual reality program will have a great start or a welcomed refresh as you move into the new year and beyond.
Want to learn more about VR training and how to get started?
Download our guide: VR Training Information and Decision Making Guide.
Want to stay up-to-date with what is going on in the world of immersive training? Subscribe to the Motive Blog.
Ready to revolutionize your training program?
We're ready to show you how seamlessly you can create, edit and deploy  VR training modules. Our team is standing by to help you revolutionize your training program.