PPE Training for COVID-19 Protocols
Keeping Frontline Workers Safe with Effective PPE Training.
After successfully working together with B.C. Women's Hospital on VR crisis simulations, the Motive team was asked if we thought we could create PPE training for frontline healthcare workers. Partnering with Accenture, we took on the challenge and turned the project around in a few months.
Problem: Frontline Health Care Workers Need Access to Consistent PPE Training Without Wasting Equipment
A global challenge during the COVID-19 crisis has been keeping our frontline workers safe and preventing further spread of the virus in healthcare settings. Personal protective equipment (PPE) shortages are widespread. Healthcare workers are having to remember complex procedures that can suddenly change based on available PPE and evolving COVID-19 guidelines. Making sure workers are properly trained can save lives.
Training Goals and KPIs
Increase access to efficient PPE training while reducing the number of on-site trainers needed.
Provide accurate and up-to-date information at all times as PPE protocols for COVID-19 evolve.
Increase training efficacy. Leverage trainee engagement and muscle-memory gained through fully immersive VR training.
Decrease equipment waste. Using actual PPE equipment for training leads to disposal of much-needed equipment that is in short supply.
Reach audiences and locations where workers generally do not have access to high quality training, such as remote sites without training facilities and dedicated training staff.
Process: Motive and Accenture Partner to Deliver a Solution in Record Time.
In partnership with Accenture, the team from Motive worked quickly to establish PPE donning and doffing procedures for various risk levels and medical situations.
The creative team quickly got to work modeling the PPE equipment. The earning design team determined the procedure storyboards and tested and iterated on the user experience that best replicated the donning and doffing of equipment.
The first procedure prototypes were ready for 8 weeks after project kick-off. After revisions and sign-off from the infectious disease team at Women's Hospital, an open-world "test mode" simulation was created to allow trainees to test their skills without guidance. Finally, in-headset onboarding was developed to allow for seamless uptake by trainees. Training staff at the hospital took part in "Train the Trainer" training prior to wide-scale roll-out.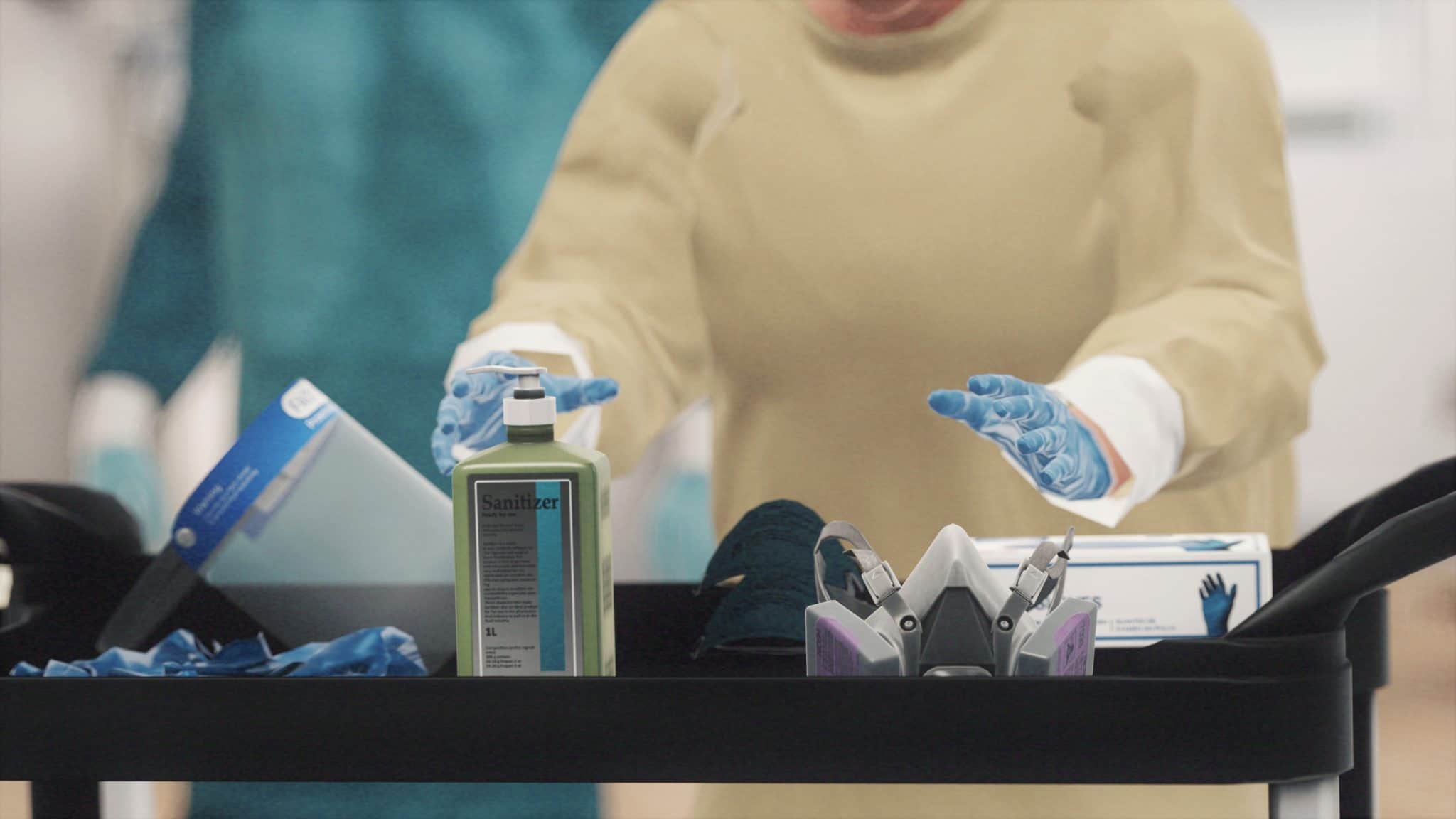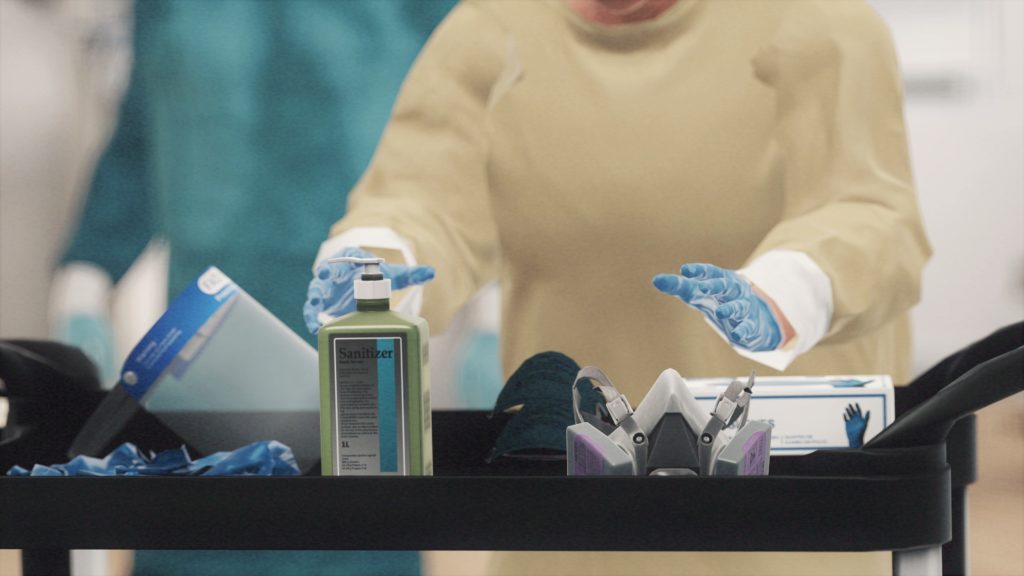 Project Highlights
Partially funded by Accenture's Social Innovator program.
The Motive team worked closely with a Talent & Organization/Human Potential team from Accenture.
The Accenture team went from never having used the Storyflow authoring tool to creating full procedural scenarios in less than 2 weeks.
Project was completed and in the hands of hospital educators in less than 12 weeks.
When new information about PPE protocols was released after initial approval, the Motive team was able to incorporate and roll out changes in 24 hours
Rollout
Initial learning audience is 250 nurses, medical students and practicing physicians.
Training is being used on-site at B.C .Women's Hospital and at the University of British Columbia medical school.
Learning is being tracked in the Provincial Health Services Association Learning Hub.
Efficacy study is being conducted that tests knowledge retention 6 weeks after training. Training modalities being compared are in-person, video and VR. They are still in process at the time of writing.
Up Next: Scale Up
Plans are underway for distribution of the training throughout the province. The need for robust training for healthcare providers and also cleaning crew and service professionals is acute. By Q2 of 2021 we anticipate the PPE training modules being used in a minimum of 5 health regions and by over 2000 trainees.
In the News:
Read more about the project here: Accenture and Motive.io develop virtual reality PPE training for healthcare workers.




PPE Training Walkthrough: Teach Mode for Airborne Precautions
"The COVID-19 pandemic has put a huge strain on healthcare professionals due to major changes in protective equipment requirements and other new protocols to manage COVID-positive patients. VR training has given our healthcare workers the opportunity to practice donning and doffing equipment safely and efficiently while conserving PPE supplies. Using virtual training has also helped us keep up with the latest provincial PPE guidelines."
Dr. Roanne Preston, professor and head of the Department of Anesthesiology, Pharmacology and Therapeutics at the UBC Faculty of Medicine.
Are you interested in VR for your workplace?
Are you interested in bringing VR procedural training to your workplace? Let's talk about the possibilities!