Food Safety Training in VR
Onboarding Employees With Food Safety Training in VR.
A global leader in online commerce entered the grocery market and was looking for innovative ways to onboard employees more quickly. With food safety and sanitation being a top priority, they decided to pursue VR to teach basic maintenance of their deli slicers.
Problem: Need For Customizable and Scalable Training With Increased Efficacy
Motive.io was selected from a competitive field of vendors to create VR food safety training. The client, a global grocery delivery company, was experiencing challenges with onboarding hundreds of new employees each month. They were looking for an innovative way to scale their training, increase training efficacy and improve key health and safety metrics. The training needed to allow their in-house learning development team to create and modify content. The training was also evaluated as an option for the company's larger e-commerce centers, where similar challenges had been experienced.
Training Goals and KPIs
Develop scalable food safety training to effectively onboard hundreds of new employees each month.
Allow in-house learning teams to create and modify training modules.
Further reduce health and safety KPIs.
Increase training efficacy by leveraging trainee engagement and muscle-memory gained through fully immersive VR training.
Decrease equipment and personnel down-time and overall training costs.
Test the platform architecture for future large scale deployment.
Create engaging and memorable training to assist with employee retention.
Process
Motive.io was selected from a competitive field of vendors to create VR food safety training modules for cleaning an industrial meat slicer.
The team at Motive worked closely with the client's L&D team to develop detailed immersive training modules that allowed trainees to interact with a photorealistic model of the industrial slicer. The training includes an onboarding scenario, a guided teach mode and an unguided test mode.
The training on Storyflow by the L&D team has been very well received and the team will now be taking the lead in creating additional training modules. The training was deployed at three facilities, to date, within the United States. Due to the success of the project, we are now discussing the expansion of VR food safety training and further exploring use cases within the larger e-commerce organization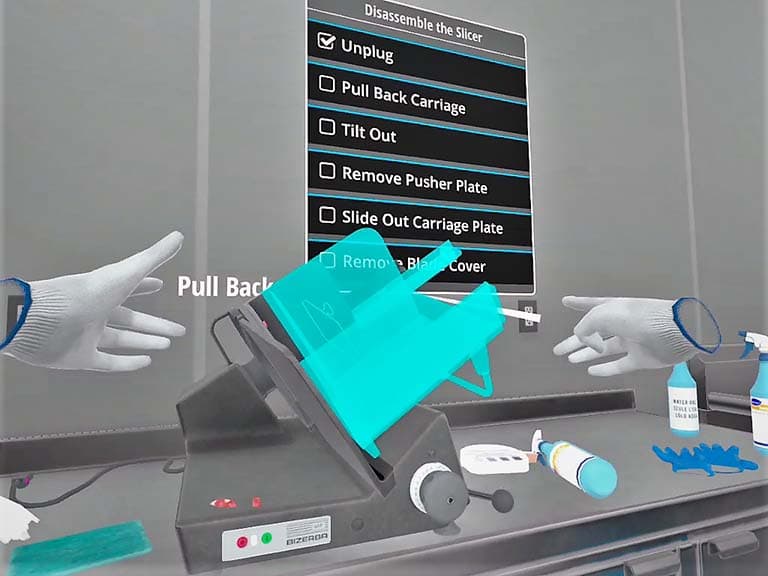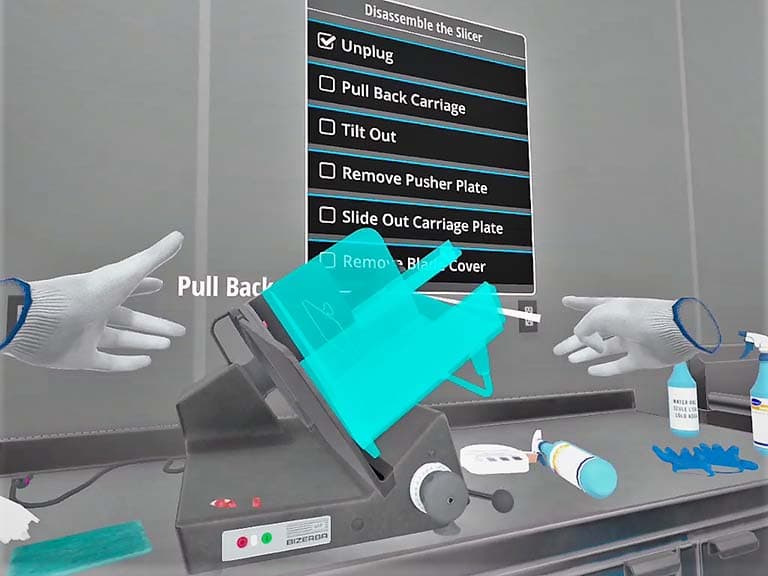 Project Highlights
The training was very well received by the L&D leads and the trainees, which has led to discussions on large scale rollouts of the training.
The platform allowed the team to rapidly refine content during user acceptance testing in days, instead of the weeks or months that typical VR development takes.
The training was scalable and reached three centers in the United States across geographic regions. New content and modifications were instantly deployed to these centers.
Efficacy results have indicated high user engagement, better knowledge retention and a reduction in training times and costs.
Rollout
Initial learning audience is employees at three warehouse locations in the US.
Several rounds of user acceptance testing with the target audience was essential to the success of the deployment.
Efficacy studies are on-going, and are evaluating knowledge retention, employee engagement and onboarding times and costs.
Up Next: Scale Up
Motive is currently planning expansion of the training program within the organization. The grocery arm of the client has over 2000 locations worldwide and the parent company employs over 1 million people worldwide.
Initially, the scale up will involve deployment of the current training modules across the company's US locations and the development of a suite of VR food safety modules. The client's L&D team plans to create these additional modules in-house. Use cases within the larger parent company are also being explored.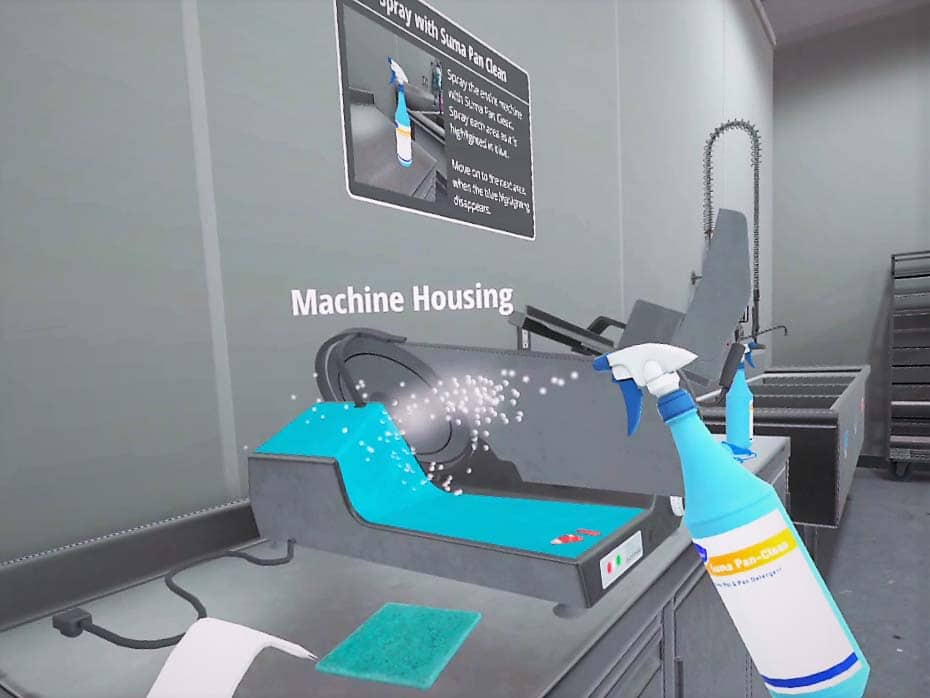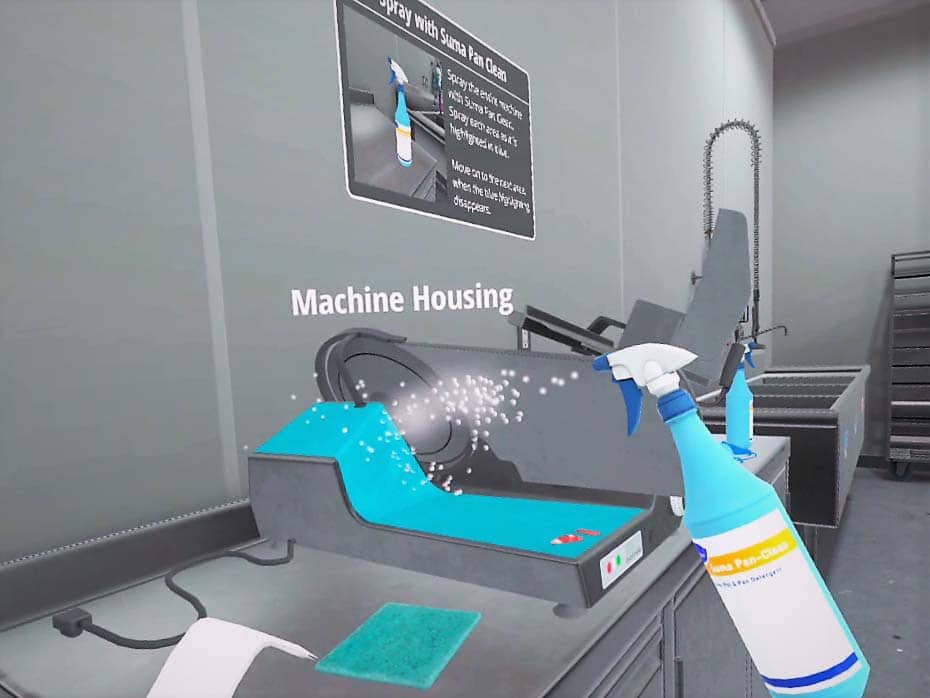 "This particular training is very valuable, especially for new employees who have limited experience using a slicer. The VR was very detailed and I would recommend it for future learning."
Are you interested in VR for your workplace?
Are you interested in trying something similar at your workplace? Let's chat about it!