Live events are back, and our team at Motive was incredibly excited to be in Orlando for the 2021 National Safety Congress and Expo (NSC 2021) this month. Meeting clients, colleagues, and peers face-to-face added energy to an already pivotal time for the safety industry. The event included speakers from industry-leading organizations like Amazon, Boeing, and XPO.
NSC 2021: Common themes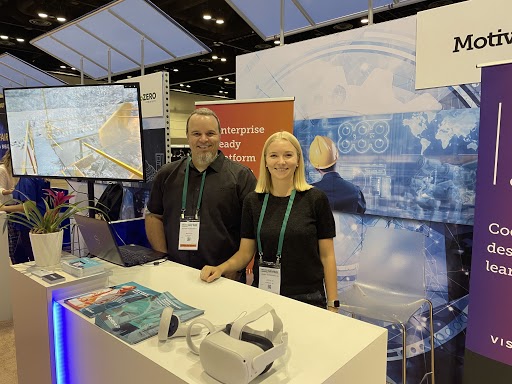 During the Occupational Keynote, Corrie Pitze urged organizations to see crises, like the current COVID-19 pandemic, as opportunities for innovation – not impending doom. He recommended that organizations embrace technology saying, "Choosing opportunity is to embrace in our world these technologies to our benefit and to the benefit of the organization."
And he was right on trend. This year, Motive was part of the first ever Safety Technology Pavilion at NSC. The pavilion highlighted innovative technologies that are transforming safety. On the Congress & Expo website, NSC says: "We believe technology will play a large role in reducing, even eliminating, our stagnant injury and fatality rates. In a recent national survey, we found that one of the biggest barriers for employers adopting technologies for workplace safety is limited knowledge of what technology currently exists."
The cutting-edge technology showcased in the pavilion included devices to prevent distracted driving, wearables to monitor an employee's vitals, and AI systems designed to track compliance with company procedures. Motive's transformative VR Training Platform highlighted the power of VR to improve employee retention of key safety knowledge and skills.
In the congress sessions, there were common themes that repeatedly appeared. Those key themes included organizations working towards a culture that promotes safety and moving away from the too-easy-blame culture that is understanding that mistakes are human and that it's the process of learning from them that's most important.
Also highlighted was the fact that promoting a culture of safety is human-centered. While technology is imperative to help solve the safety problems of today and tomorrow, humans are key to its success. Technology and people need to work side by side to ensure that everyone gets home safely after a day at work.
NSC 2021: Amazon's innovations
For our team, a clear highlight was the presentation by Amazon's Worldwide Health and Safety team. They led by example, sharing the incredible technology innovations they have rolled out within their fulfillment centres and throughout the organization. These innovations included using robotics for repetitive tasks that can be hard on the human body and technology to aid employees in completing their roles. However, Amazon didn't forget that a culture of safety is human-first. They highlighted how their team leaders are hoping their teams get proactive with ongoing training and team engagement.
Amazon reiterated its commitment to becoming Earth's safest company alongside its commitment to customer experience.
As our first live event after almost two years, NSC 2021 did not disappoint. It's exciting to see safety professionals adopt technology, like VR, at a swift pace as they work to solve their current problems and plan for the future. More than ever, organizations understand the power of VR training and its ability to address their safety challenges. With the Motive VR Training Platform's ability to scale training throughout an organization and our enterprise-grade security and integrations, it's slotting in as a must-have solution for 2022.
Are you considering VR training but would like to see more proof of its benefits?
Download our white paper: The Case for Immersive Training.
Want to stay up-to-date with what is going on in the world of immersive training? Subscribe to the Motive Blog.
Ready to revolutionize your training program?
We're ready to show you how seamlessly you can create, edit and deploy  VR training modules. Our team is standing by to help you revolutionize your training program.