As virtual reality learning experiences are growing in demand, Motive is growing their amazing team! This month, Motive welcomes Destery Hildenbrand as the Senior Learning Experience Producer.
Destery comes to Motive with a wealth of knowledge in immersive learning experiences. As an instructional designer with a focus on immersive technology, Destery has over 15 years of experience in learning and development – both corporate and higher education. In 2020, Destery authored a continuing education certificate in Augmented Reality and Virtual Reality for Kirkwood Community College in Eastern Iowa, where he is an adjunct instructor.
I sat down with Destery (virtually) and asked him a few questions about his move to Motive.
Betty: Tell me your story, Destery. What got you to this immersive reality designer at Motive space?
Destery: About five years ago, I went to my very first learning and development conference. And I realized right away that those were my people, and I had to be there again. I needed a way to go back.  

I found this thing called augmented reality. I decided that is what I was going to talk about. I applied to the next conference and said, "Hey, I want to talk about this". And they said, "Sure, we'll throw it in the expo hall. Here's a bullhorn". I mean, literally, it was completely mad – I was over in the corner yelling, "there's this thing called augmented reality and 360 video is pretty cool, too".

Slowly, I started doing that regularly. I started growing and learning a little bit more. And that led me into immersive learning spaces completely. I started in augmented reality, went into 360 video and really became a champion for both of those. I was very excited about the prospects they had. As virtual reality became more affordable and easier to get into with less barriers, I really started exploring and experimenting with it more. I was very fortunate that I ended up at a consulting company where I was able to really start building those chops and developing for VR. I got to do some real cool things. I got to fail fast and fail forward, learning with a group, because it's still relatively new. 

I was very fortunate that I had that opportunity. And that is what really led me to Motive – just a continuation of that passion and excitement about XR.
Betty: Tell me about your move to Motive.  What prompted you to want to work there?  What got you excited about the opportunity?
Destery: I met Ryan Chapman [Motive's CEO] at one of those L&D conferences, maybe three or four years ago.  He had some really cool stuff he was working on, so I was sure to keep tabs on what Motive was doing. We always seem to run into each other, and we would make some plans to collaborate down the road.  

I had an opportunity to write a few blogs for Motive and get to know them a little bit better. I became familiar with what experiences they were building and their VR authoring platform. And then the opportunity came up to apply to work with this awesome team as a Learning Experience Producer. I was really able to lean on my years and years of learning and development training experience design, and my newfound passion for extended reality. It was one of those right place right time kind of things. Motive was looking and I happened to be looking at the same time and the fates sort of aligned as some would say.  
Betty: How will your skillset make a difference at Motive?  What are you looking to contribute?
Destery: I think the biggest thing that I bring to the table is experience in learning and development and being able to take that next step with virtual reality. Being in a virtual space naturally allows us to be hands on and learn things in a way that we might normally encounter them. It's a lot less "next" buttons and quizzes, and a lot more hands on touch and see what happens. 

I'm able to bring that background on how people learn, and how we can take that extra step. Virtual reality is a great way to learn, but how do we capitalize on that a little bit more? How can we apply adult learning theory? How can we get some of that repetition in there? That's where I'm hoping to bring that next level and be able to tell stories that learners can get excited about.
Betty: You have some experience in authoring and other tools for VR. Tell us about that.
Destery: My experience is in VR authoring in the Unity platform, where a lot of virtual reality is built. I do use several other tools for developing augmented reality. Once I started understanding that augmented reality, or even just immersive reality in general was the direction I wanted to go, I realized that I had to learn some coding. I've got a little bit of a background in coding and understanding how to use the platforms that are being built.

I also teach an AR/VR certificate program at a local community college. I created the entire certificate in 2020 and begin teaching it this semester. So yeah, I've really thrown myself into creating immersive learning experiences.
Betty: So, you are deeply immersed in immersive reality?
Destery: I see what you did there.
Betty: How has your experience been so far?
Destery: It's been fantastic! I don't think I've ever felt quite so excited about the prospects of a new job and so welcomed to being a part of something new. The first couple weeks have been learning about what I'm going to be learning about Motive and exploring what it is that I'm going to be doing. 

I have spent more time in VR since I started here than ever before, and it's fantastic! I get to build stuff and check it out and build more stuff and check it out and make this change and check it out. Yeah, that's been so cool – that's not gonna suck at all.
Betty: What are you most looking forward to?
Destery: The thing I'm looking forward to the most is the opportunity to tell stories and create experiences that help people learn and that are fun to develop. And I get to do what I'm super passionate about and what I've been dreaming of doing exclusively for years. Maybe that passion will rub off on other people that are excited about VR or interested in developing immersive experiences too. I'm super excited and super stoked about work everyday, to create amazing experiences and influence others to do the same.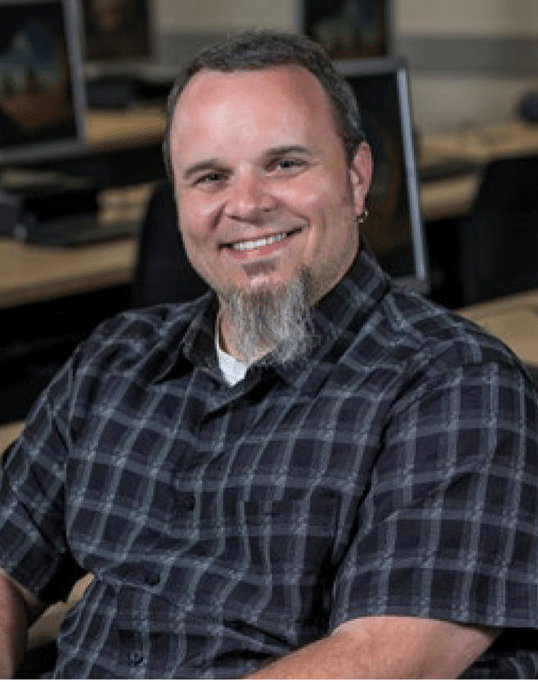 Connect with Destery Hildenbrand
You can connect with Destery Hildenbrand on LinkedIn or follow him on Twitter at @Destery1Kenobi.
Want to stay up-to-date with what is going on in the world of immersive training? Subscribe to the Motive Blog.
Ready to revolutionize your training program?
We're ready to show you how seamlessly you can create, edit and deploy  VR training modules. Our team is standing by to help you revolutionize your training program.