The commercial airline industry has been one of the hardest hit industries during the COVID-19 pandemic. With travel restrictions easing, employment increasing, and fleets expanding, the industry is slowly starting to see a revival. Quickly and effectively onboarding employees will be critical to getting passengers back in seats and flights back in the air.
Airline industry training in VR can help by reducing time spent training, bringing cost efficiencies, increasing retention and engagement rates throughout training, and providing a safe environment for employees to learn. A better trained workforce means smoother operations, less time out of service, and ultimately, more time in the air.
Airline Industry Training in VR: Use Cases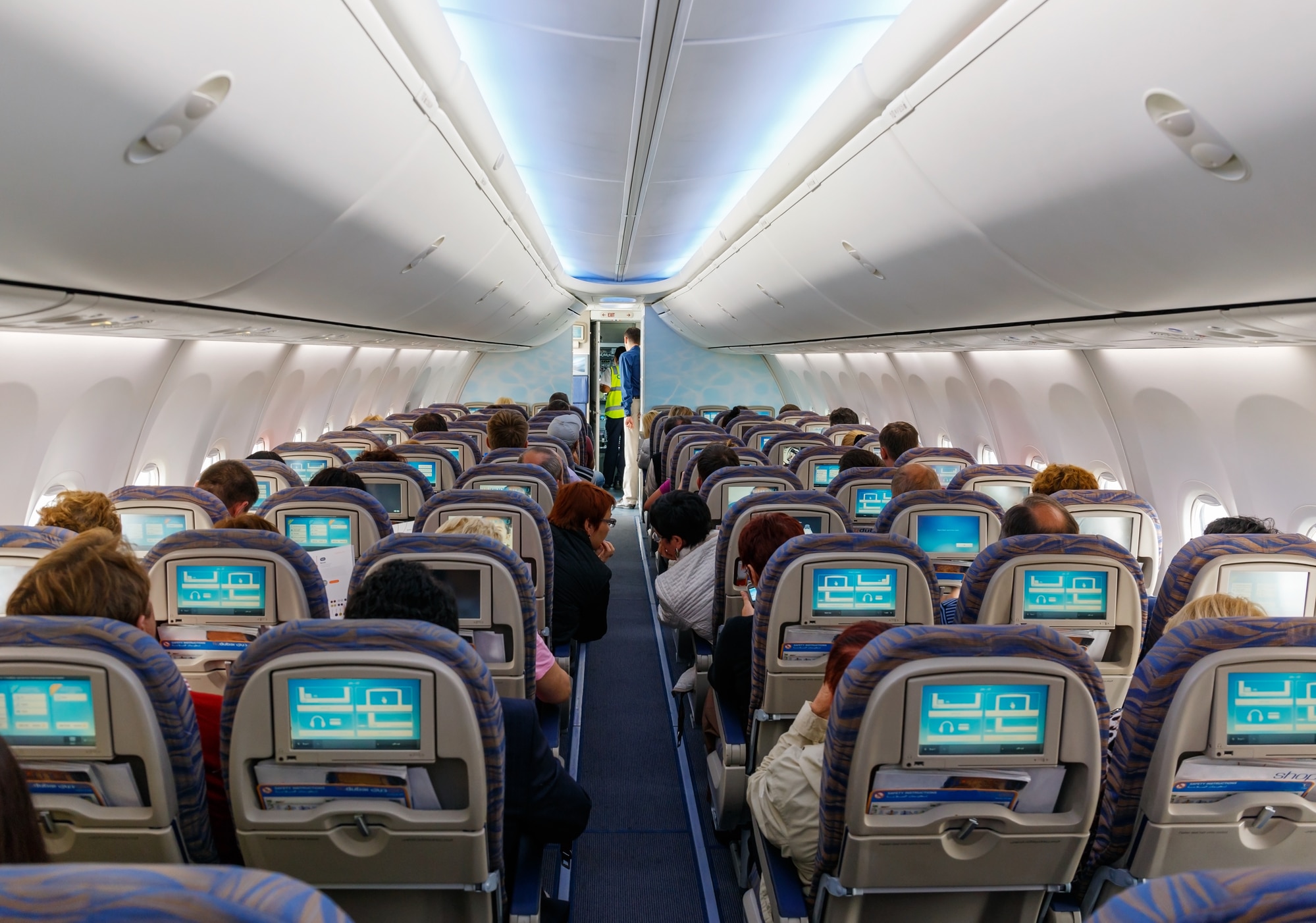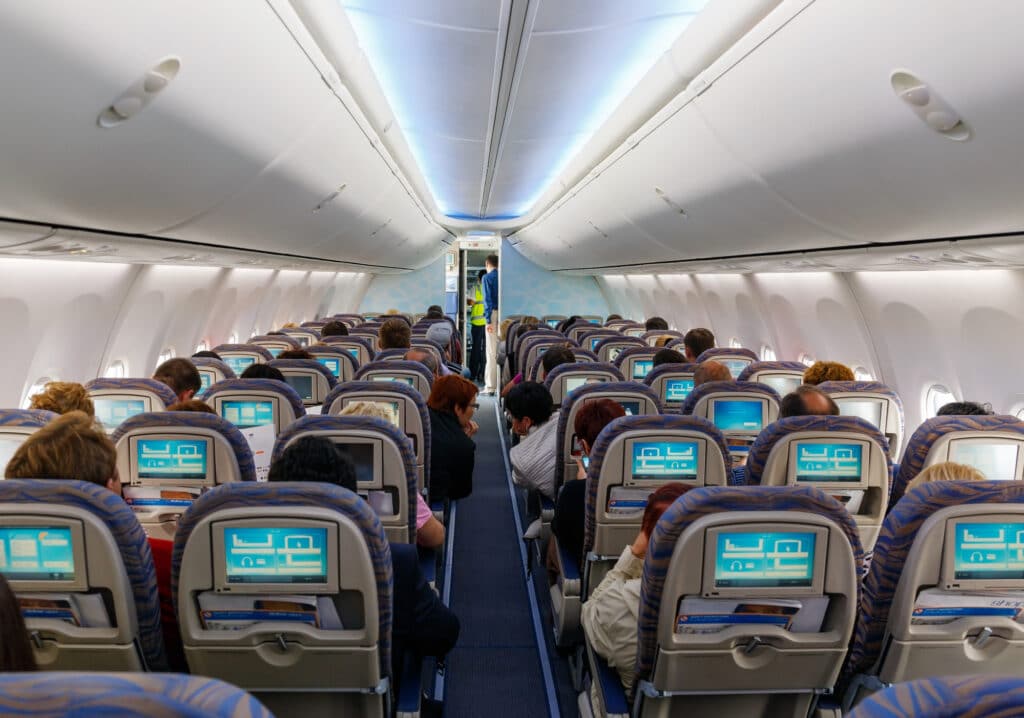 Cabin Crew Training
There is no doubt that it takes a while to familiarize yourself with all aspects of a passenger plane. There are many procedures cabin crew employees need to consider before taking off and landing, including door operations and safety checks. The cabin crew can use VR training to learn and practice protocol in an accessible and repeatable environment where they can test how they may react to certain situations. With VR training, learning can take place outside of the cabins without needing to access an aircraft or equipment.
With passengers returning to the skies, and cabin crew required to follow new safety protocols including passenger PPE requirements, it's important that the cabin crew are equipped to navigate complex customer interactions.
VR is an effective medium to train crew members to do this, by using conversational AI to create realistic customer conversations, and provide a safe space in which to practice them. A study conducted by PWC found that training soft skills in VR increased employees' confidence by up to 40%, which leads to a better experience for both crew and passengers.
Lufthansa took the step forward into VR training for their cabin crew in 2019. Since then, around 20,000 flight attendants have participated in their program. The program focuses around topics such as service, safety, and soft skills.
Flight Deck Training
Across aviation, one of the most highly recognized use cases for VR training is flight deck training. In addition to cabin crew and maintenance engineer training, KLM began trialing VR training for pilot training on their Embraer 175 and 190 aircrafts in late 2020. While the majority of the program is using 360 video, CGI-based VR training is also an incredible way to train the flight deck.
The applications of this program currently include virtual cockpits, instructional videos, and virtual walkarounds. These environments allow trainees to get accustomed to the instruments they will be working with, enabling greater comfort and confidence. KLM has seen both cost savings and accessibility when it comes to VR training. Pilots are no longer limited to classroom training and can safely explore their environment in the virtual world.
Another innovative industry leader in flight deck training is Airbus. Their VR training program includes a simulated cockpit where the trainee can practice procedures alone or as a crew. They are able to train with or without an instructor to gain confidence in their skills, leading to a more efficient and flexible training program.
Aircraft Maintenance Training
Virtual reality also makes a good case for aircraft maintenance and MRO (maintenance, repair, and operations) training. Trainees need to be confident in the skills and procedures learned to minimize errors and maximize passenger and crew safety. Like cabin crew training, introducing these skills in VR allows employees to learn in a safe, accessible, and easily repeatable environment.
Skills such as de-icing can be repeated through both train and testing modes, where trainees will have to spray specific quantities of liquid chemicals. Speed and precision can then be tracked to see if an employee is ready. Baltic Ground Services introduced this type of training and overwhelming responses from trainees, with one employee stating "when I got into the real lift cart, my hands already knew what to do."
Airline Industry Training in VR: VR Training 2.0
In an industry where both passenger and employee lives can be at stake, safety needs to be a priority. The best way to ensure safety is to train your employees properly by allowing them to test their reactions in high-stress situations and learn from their mistakes in a controlled environment.
Luckily, virtual reality training is there to help your employees gain confidence before stepping on a plane or the airport tarmac. VR training allows employees to face situations that are likely to occur on the job, like dealing with aggressive customers or completing an aircraft inspection. Receiving practice in these scenarios ensures employees have the skills to perform their job safely and efficiently.
The commercial airline and aviation industry continues to benefit from VR training. Major industry players have taken their training programs into the virtual world, inspiring other companies to do the same. Advancements in VR training make it easier than ever to implement VR as a medium in training programs.
With Motive's introduction of VR training 2.0, we're giving you a better way to create VR training. Training teams can easily create, edit, and deploy VR training content by using the Motive VR Training Platform. With the platform's code-less, drag and drop, web-based authoring tool, the power is put back in the hands of those who know their training best. This leads to both cost and time savings in the long run without sacrificing the effectiveness of your training.
Help your VR training program take off with VR training 2.0 and Motive.
Are you currently looking for a VR vendor? The long-term viability of your project depends on choosing the right one. Here are 15 questions every VR vendor should be able to answer:
Download the checklist: 15 Questions for your VR Vendor.
Want to stay up-to-date with what is going on in the world of immersive training? Subscribe to the Motive Blog.
Ready to revolutionize your training program?
We're ready to show you how seamlessly you can create, edit and deploy  VR training modules. Our team is standing by to help you revolutionize your training program.