How VR Training 2.0 is Helping the Energy Sector Overcome Training Challenges
Let us not mince words. 2020 was a horrible year. Lives and livelihoods were lost as our cities and the economy ground to a halt. The energy sector had their own storm brewing.
Crude oil prices crashed, storage facilities could not stock anymore, employees were laid off, and plans of expansion and capital investments were dropped overnight. But small teams of trainers working on energy sector training within impacted organizations kept their spirits high. They pegged away with minimal resources to keep the system 'well-oiled' as it were.
It is a truism that tough times offer fresh opportunities, and one silver lining amid all of the gloom is the growing realization that old ways of training must be modernized. Geography and distance have to be addressed with digital solutions that make economic sense. When it comes to training the workforce of the oil and gas sector, there is a clear answer as to what this entails: investing in VR training 2.0.
Enter VR Training 2.0
VR training is not a new phenomenon. In fact, the energy industry is amongst the earliest adopters of such technology. Despite the tremendous potential, teams were hesitant to wholeheartedly shift their training into the digital world.
Admittedly, the problems with VR training 1.0 were also abundant. It was hard to use. It needed an army of developers and coders who were pushed to their limits, both time-wise and delivery-wise. They were given unrealistic expectations of responsibility over 3D modelling, authoring, deployment, analytics and making additional module changes from requests given by L&D departments. This created an unhelpful bottleneck and contributed to a host of problems linked to scaling these VR training modules.
Oh, I forgot to mention the millions that were being spent on scaling these VR training modules.
But 12 months is a long time in technology. VR training 2.0 came as a much-provided relief to teams who were desperate to find one solution to all of their VR problems. VR training 2.0 is built around a simple-to-use, codeless, drag-and-drop tool that allows teams to scale their VR training without additional resources. Team members can now work on what they know best. Developers are free to concentrate on 3D asset and environment creation while learning teams control the authoring, deployment, and analytics of their training.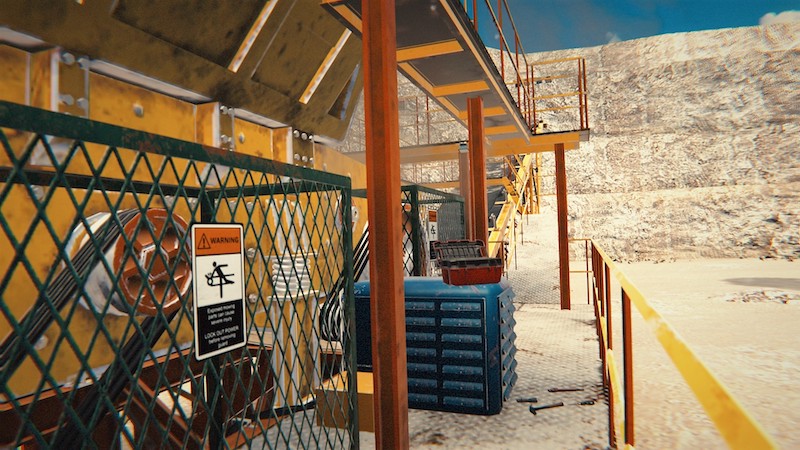 Energy Sector Training: Safety Training with VR Training 2.0
VR training 2.0 appeared on the scene at a time when organizations, especially in the oil and gas industry, were building digital twins of their plants, refineries, and pipelines. The tools of VR training 2.0 allowed them to create 3D assets and environments at a fraction of the time previously required. This gave employees an entire universe to practice in and to learn from all possible scenarios before hitting the real world.
With the availability of new state-of-the-art authoring tools, learning teams could now create various scenarios with a few clicks. Learners could practice skills within safe environments where bad decisions had consequences, but not dangerous ones.
To state the obvious, the virtual world is the safest place to train your workers, especially when it comes to interacting with heavy equipment or dangerous materials. With the help of VR, employees are now being provided with a safe place to make and learn from their mistakes, thereby enhancing the subject matter expertise.
Apart from procedural training, VR training 2.0 also makes use of cutting-edge conversational AI that teaches employees how to communicate clearly through potentially stressful situations. The emphasis on soft skills while simultaneously being trained on procedural safety has allowed teams to develop decision making skills for more effective reactions to crises for scenarios where every second matters.
To illustrate, transporting and processing fuel is a long process, both geographically and procedurally, with innumerable critical steps. One leak, one electronic malfunction, or one human mistake has the potential to cause a catastrophic blowout. The option to enhance skill sets without exposure to real life danger remains of immerse value.
Energy Sector Training: Employee Onboarding with VR Training 2.0
No sector sees a greater boom and bust cycle than oil and gas. Unfortunately, this leads highly skilled workers to enter the cycle of being laid off and rehired based on the cycle stage. The cost of training each one of those hires is unavoidable, regardless of the rising costs. The remoteness and often extreme nature of such a work environment means that training employees is never an easy task. While trainers have been using VR to bridge some of these challenges, deployment of training at scale has been very difficult.
VR Training 2.0 is all set to change this.
Learning teams can now customize, change, or update training modules and deploy them across all headsets remotely and instantaneously. You no longer need to spend 6 months applying a change and physically downloading it into headsets to remote locations.
Today, a new employee destined for a rig could be trained remotely using VR with data being generated to assess whether he is ready for the job. Imagine the time, cost, effort and agony saved. As industry leader, Susan Spark from Schlumberger would say, "you don't want to train an employee how to operate [a] rig during a hurricane while an actual hurricane is looming over his head."
A great many learning teams probably feel like that hapless guy on a rig caught in a hurricane – they don't want to be ill-prepared to meet the next set of challenges. The way of doing VR is changing. VR training 2.0 is the way to go.
Are you considering VR training but would like to see more proof of its benefits?
Download our white paper: The Case for Immersive Training.
Want to stay up-to-date with what is going on in the world of immersive training? Subscribe to the Motive Blog.
Ready to revolutionize your training program?
We're ready to show you how seamlessly you can create, edit and deploy  VR training modules. Our team is standing by to help you revolutionize your training program.